Erica and Jonathan got married last September at the First United Methodist Church, and the reception was at The University Towers. When I first met Erica and Jonathan I knew that they would have a special wedding. They had such an affinity towards each other, and they were so much fun to work with on all the little details for the wedding. Their friends and family were in for a very loving wedding day!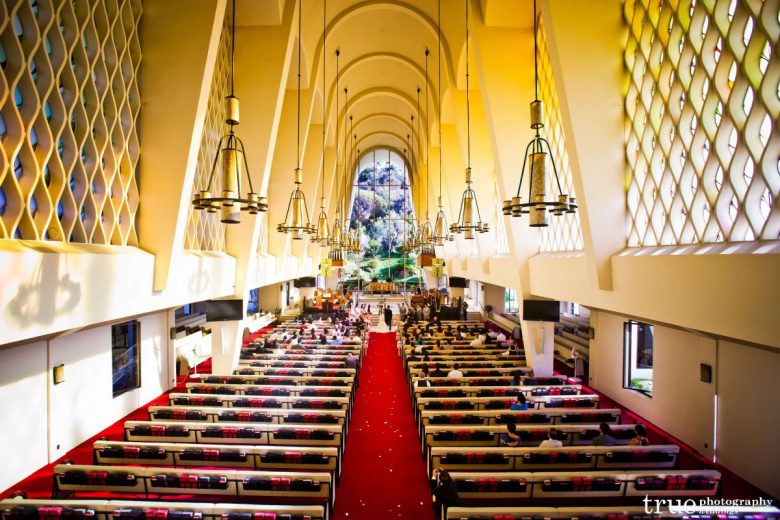 Erica had a very specific vision for her wedding day. We got to play with themes from Disney, and took some of the features from Beauty and the beast and put them into the wedding details. Some of the guest tables had the single rose under the glass, and their sign in table had the teacups from the movie as well. We were able to take these ideas and transform them into an elegant wedding display for guests to enjoy. Pinks, whites, soft oranges and creams filled the church and ballroom as beautiful accents! One of my favorite features was the dessert table, with their specialty cake and cupcakes. It was beautifully laid out with specialty linen in black and white with fun gold heart accents as toppers for the cup cakes.
The downtown San Diego area was a perfect backdrop for some amazing photos! The bridal party even got into the mix on the trolley stop! This couple was up for almost anything when it came to the photos. Guests had a wonderful time enjoying the San Diego cityscape from the University Towers top floor view. They danced the night away and was even surprised by the groom and groomsmen's specialty dance that was a surprise for everyone, even the bride! This was such a fun way to end the night.
Vendors that helped make the day:
Wedding Consultant-Rachel Finn, I Do…Weddings & Events
Ceremony-First United Methodist Church
Reception Venue- University Towers
Florals-Aunt of the Bride
Photobooth-Mobile Photo Booth
Photography-True Photography
Videography-Nr3 Video Productions
Baker-Edelweiss Bakery