Toni and Phillip's wedding at Hidden Valley Retreat and Spa was our last wedding of 2012, and what a great way to end the year! Their wedding took place back in November mid-afternoon underneath a shining sun. It was beautiful weather that turned into an even better sunset. If you haven't heard of this property, let me tell you, you are missing out. The possibilities are endless, and the level of personalization you can have for an event here is incredible. Toni, Phillip and Toni's mother Robin had a really unique vision, that I was thrilled to help carry out.
I really liked Toni and Phillip's take on vintage. The riot of color, and sweet touches were talked about the entire evening. From vintage hankerchiefs for the ceremony, to a vintage typewriter in lieu of a guest book, amazing details were everywhere!
I also created the florals for the big day. The muted vibrant palette was beautiful for a sunny November day. I remarked to Toni that her dress and wedding look was completely unique to her. I LOVED the halo I created–it really popped against her beautiful dark hair. I enjoyed how her dress was unlike any other wedding dress I've seen.
This venue is entirely outdoors. Hidden Valley Retreat and Spa does have a rain option, but it certainly isn't as gorgeous inside as it is outside. So, with that in mind, we designed and planned for both options…particularly as we were heading into winter.
I have such an affinity for wonderful smelling florals. As I made my way up the winding hills of Hidden Valley Retreat, I rolled down the windows in the sunshine and smelled the lavender–heaven!
The couple gave each guest locally made honey. On each jar, their initials and wedding date were stitched.
How great is this sign? Such a fun introduction to the ceremony area.
The ceremony was officiated by the Bride's father. Because of the unique set-up of the ceremony location, we surrounded the stage with greenery and hung vintage lace on the front of the stage. Hippocrates Circle, one of the ceremony options at Hidden Valley Retreat and Spa, has beautiful lush trees.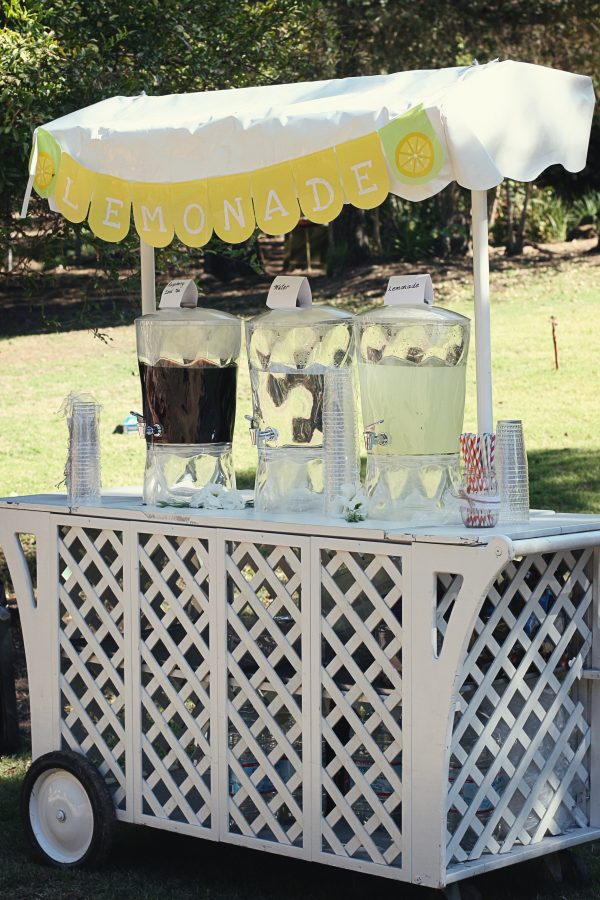 Pre and post ceremony, guests enjoyed drinks from this adorable lemonade stand.
The bride's unstructured bouquet.
In addition to officiating the ceremony, the Bride's father did an incredible job stringing lights.
Bales of hay surrounded the dance floor. They were covered with colorful quilts to serve as additional guest seating and also helped keep guests warm.
Mismatched china for each guests added to the ecclectic feel of the day. It was a really neat feeling walking around the tables and seeing the same pattern my grandmother used to have.
Instead of a traditional cake, we served Julian pies. They were a hit!
Toni and Phillip, thank you for the opportunity and experience! I so enjoyed working with you and your families.
Venue:  Hidden Valley Retreat and Spa
Coordination and Florals: Melissa Barrad and Laura Lambillotte, I Do…Weddings & Events
Officiant: Father of the Bride
Photography: Jessica Fino Photography
Rentals: Abbey Party Rentals, Pow Wow Rentals and Verity Jane
Caterer: BBQ 81