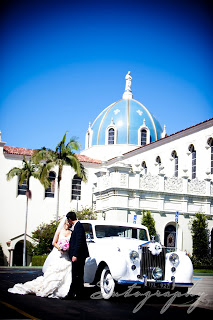 MaryLynn
married
Flippo back in September
at the
Immaculata
Church. This couple spared no expense when it came to their wedding. They had gorgeous flowers, decorations, music and more.
Marylynn's
color of choice was pink and it showed in all aspects of her planning, from the flowers, to the favors, and even the cake, which by that way was quite a sight to see. It was a fantastic bed with wedding clothes laid out on it. You could definitely see the that great thought and effort went into every detail of this wedding from the favors to the vintage car they drove off in.
The wedding reception was held at the Hyatt Manchester. The ballroom was an elaborate space created just for the two of them. There were pink and white flowers everywhere. Their guests were treated to a Coffee cup that had an Espresso cup with espresso beans in it as their favors. Each table had sees candies on them, and the head table had decadent cupcakes! They even had an espresso bar for guests as an added treat. The entertainment for the evening definitely matched up to the grandeur of the wedding, with The Heroes as their live band. The music played, and the night ran on into the very late hours of the evening. The ceremony was early in the morning, so I was happily shocked to see the newlyweds rockin' out on the stage at 1 am!
MaryLynn
and
Flippo
were a couple that was meant to be, and their wedding was a wedding that was
meant
to be special. They made sure of that. Thank you to both of them for allowing us to partake in their special day! Your families are just wonderful!
I was also honored to coordinate MaryLynn's sisters wedding just last month–yup, both sisters married in the same year. Photos of another show-stopper coming soon!
Special Thanks to all their vendors:
Ceremony Venue: The Immaculata
Ceremony Music:
Krishan Oberoi :619-309-7762
Hair and Makeup:
Fredrick Michael Salon (Faryel): 619-277-7339