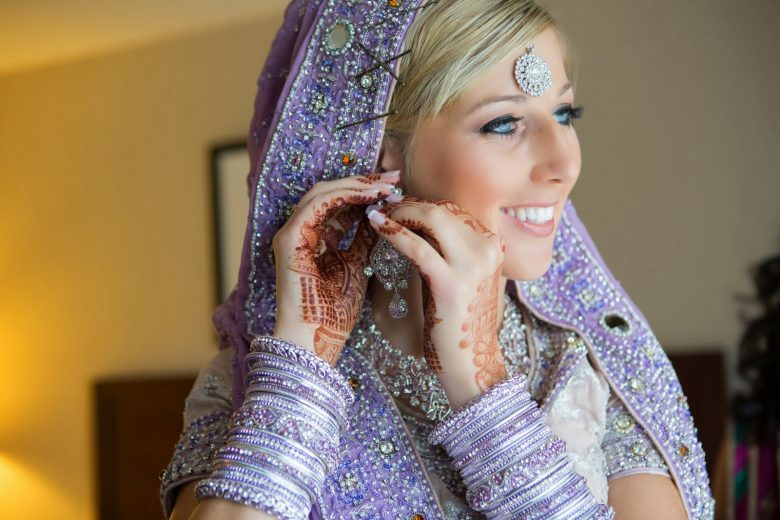 Kessee and Sumit were married in August at the Scripps Seaside Forum. To honor both sides of their cultures, we had both a Hindu ceremony and an American ceremony. It was chock full of modern details, and it was a challenge we were thrilled to pull off beautifully! The Bride and Groom also tapped us to design all of their florals. The day began with a traditional Hindu ceremony, followed by lunch. At that time, the Bride and Groom changed into more traditional American wedding attire, had an American ceremony and cocktail hour. The reception was so much fun! Check out all of these amazing photos!!!
One of the most fun details of the day was creating different vibes for each portion of the day–the Hindu ceremony, lunch, the American ceremony, cocktail hour and reception. We added and deleted details, and repurposed as much as possible! The Bride also wanted to have a color palette that honored the Groom's Hindu background, but was also modern, romantic and bright. The couple collected glassware and cobalt birds over a Year's time, and I designed really fun florals that packed a punch. Here is how the bride described the day:
"I would describe our wedding design as vintage lovebird themed with a modern twist and Indian flair. Normally when you think vintage, a softer color palette comes to mind but we love the vibrant colors seen in Indian culture and wanted to add our own take on vintage by picking vibrant fuchsia pink, aqua and cobalt blue. I spent over a year collecting bright colored vases, vintage frames and lovebirds to make it all happen. Of course it would have not turned out as beautiful without the help of our amazing wedding planner and Florist, Melissa Barrad who brought my vision to life on that day and created a breathtaking space.
Our goal was for our guests to experience a romantic and elegant day while taking in the beautiful scenery at the Scripps Forum at La Jolla shores, California. The cool modern architecture of the building and stunning ocean views made for an excellent backdrop while we shared our vows. We also loved the intimacy of the venue and felt like we could really feel the love and excitement coming from everyone there. 
As a mixed race couple, one of the challenges we faced was combining two cultural backgrounds into one day that would honor both of our families. The timing was crucial as we decided to have our Hindu ceremony first followed by lunch and then our Christian ceremony and reception. Although it was a marathon of a day, it all worked out with the help our friends, family and wonderful wedding coordinator and vendors. I loved the elements where we mixed both traditions, like getting Henna tattoos on my hands and feet but also wearing a very classic Jim Hjelm lace dress. Our guests also got to enjoy the mixing of cultures in the food we chose with things like lamb chops with mint chutney, and Indian desserts like Gulab Jamun."
Their wedding was such a blast! It most definitely took a village (thank you to the entire team of IDW and even my brother Tom for pitching in!) to create this amazingly fun day at the Scripps Seaside Forum.
Kessee and Sumit, it was such a pleasure getting to know you both! Thank you for entrusting me to help you execute your extremely fun wedding celebration!
Vendors that helped make the day:
Venue: Scripps Seaside Forum
Hair/Makeup: Elizabeth Root