Karen and Wes were married this spring at the Mission Bay Hyatt and the Immaculata. This marks the third wedding I've coordinated for the family–I was lucky to recently coordinate Karen's two sister's weddings as well.
I just adore this entire family! You can certainly tell from the photo below how close they are. I rarely include photos on the blog of the Mother of the Bride, but (pardon the pun) Maria takes the cake! She's fun, no-nonsense and an absolute pleasure. I feel very blessed to have gotten the chance to work with her and early equally wonderful husband Steve three times.
In the photo above is ANOTHER IDW bride, Deanna! She was very pregnant for the wedding, and was in very high heels the entire night. It was great to be able to walk around the ballroom and connect with so many people I knew. I'm going to be really sad when this entire group is married off!
More of the three sisters! All three married at the Immaculata, and many of the same vendors were used across two or three events. It kind of felt like getting the band back together…there were so many familiar faces (both guests and vendors), and I was really sad when the night was over.
Karen and Wes' niece stole the show! How adorable is she?????? Eliana was called "Little Bride."
Finally:) A picture of Wes. Wes and Karen compliment each other so well, and I am so excited to report they are expecting a baby in a few months!!!
Karen, Wes and the bridal party ventured over to Harbor Island Park for photos. It is a great location for a big group to spread out and have some fun!
See what I mean about a big bridal party?
Loving the Bride and Groom's kicks!
I've coordinated and designed a number of Mission Bay Hyatt weddings in years past, but this one is my absolute favorite! Tim Altbaum did an incredible job lighting the room, adding draping and the couple's monogram. Karen and Wes' wedding had over 300 guests. It was wonderful to have a great working relationship with Tim. When 300 people are milling about, it's hard to get across the room and communicate quickly–even with assistants. But, Tim has a wonderful way of reading the crowd and working with timeline constraints and requests by me:)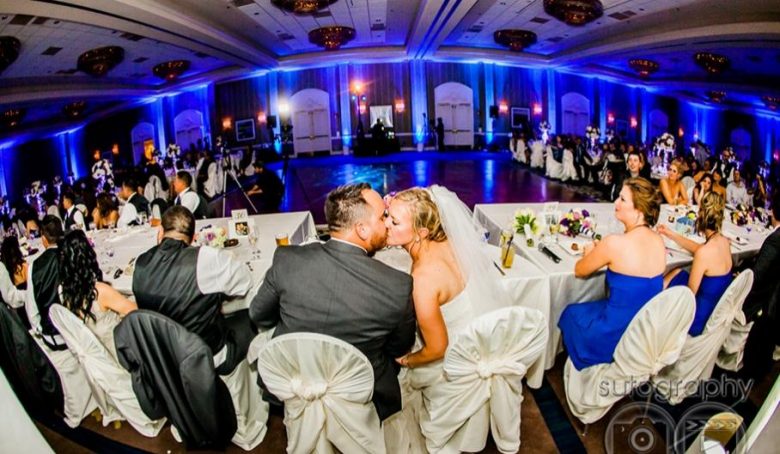 Karen and Wes, thank you from the bottom of my heart! I feel very blessed to have had a small part of your wedding celebration, and I am thankful to have met you both! It makes my heart happy to see you, MaryLynn and Amy's families grow. It is so great that there are now five new kiddos in your families. I wish you and your families all of the best in the world!
To see more images of the day, head on over the Sutography's blog!
Vendors that helped make the day:
Venue: Mission Bay Hyatt
Photography: Sutography
Wedding Coordinator: I Do Weddings – Melissa Barrad
Flowers: Flowers of Point Loma
DJ: Tim Altbaum Productions
Cake: Flour Power
Photo Booth: FotoBox
Makeup: Suzie Maldova – Hair: Rozalyn Wolf