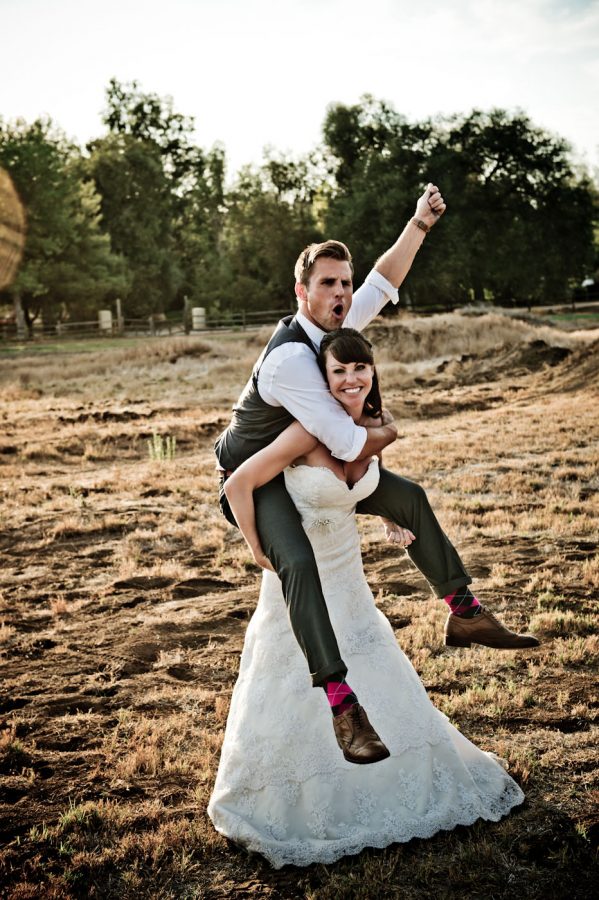 Planning my own wedding as a wedding planner was quiet an interesting task. I have all the information on what to do, and how to plan, but being a bride myself was a bit of a shock to me. Being a bride and a planner should have been easy, but it was an interesting endevour for me. I was blessed enough to work with an amazing company that helped me through the entire event from start to finish. Here is my take on the planning process as a bride/planner, the trials and successes:
Picking the wedding venue honestly should have been easy for me since I have had the pleasure of working at so many amazing locations, but in the back of my mind I wanted a place that I had never worked at before. I wanted to experience my wedding as if it were the first time I had been to the location. I knew I wanted to have an outdoor venue but I had already worked at most locations in the San Diego area. I happened upon Serenity Oaks Ranch while researching locations for a bride of mine. As soon as I walked onto the property I knew this was the venue for me. It had everything I wanted. Beautiful oak trees, a creek, open land for photos, and a fantastic reception location with twinkly lights already built in! This was it for me. I did of course ask my fiance at the time and he agreed that if I loved it so much he did not even need to see it. So we had our venue.
Choosing vendors was not as easy as you would have thought! I got engaged on May 3rd, 2012, and we set the wedding date for September 7th, 2102. I had 4 months to plan and find vendors who were available. Being a planner helped in the planning process, but I love so many vendors that I get to work with, that choosing was actually quiet difficult on my part. In the end I was blessed with great people to help make my day perfect.
For the style of my wedding I wanted to incorporate my Ohio upbringing with Mike's Ramona roots. So the ranch was a good start. In 2012 the vintage/rustic theme was not as crazy popular as it is now, so I got to be creative with what I was doing. I knew I wanted the rustic farm wood tables and to mix in elements of soft lace with blush and creme colors. I wanted a wedding that if you looked at it 20 years from now would still be a classic look and feel with some fun elements. I got to work with Alex from Blush Botanicals for the florals and I basically showed her a few images of what I was thinking and then said "run with it!" Sometimes allowing your vendors to have creative liberties is a great thing. They are professionals and allowing them to create how and what they want to will leave you with an amazing outcome. That is what happened for me!
For some of the fun touches, I bought old fashioned luggage tags from Etsy and made those my place cards with old keys attached to them for guests to take home(I bought them in bulk from amazon). I used an old door (provided by Blush) as the backdrop for the tags and it looked amazing! We also had postcards as our guest book instead of a normal sign in book. We used them after the wedding to make a mural for our house! For favors I ordered individual mini flower pots. Each place setting had everything you needed to grow your own flowers at home. The seeds were compressed recycled paper in the shapes of hearts. I got them from Etsy as well. I also got to make brownie pops with my bridesmaids two days prior to the wedding. On a side note brides: only do projects right before your wedding if you have good help and professional vendors working with you. Otherwise it can cause you un-needed stress right before your wedding. One of the last items that I wanted for the wedding was a fire pit with individually wrapped smores packets that my mom and sister helped to put together. This was a fun added treat for guests at the end of the night!
Some of the fun surprises I had for not only our guests but my husband as well were a grooms cake in the shape of Mikes favorite surf board. He is an avid surfer and had no idea this was coming. Sweet Cheeks Baking did such an amazing job on this. Mike and I are somewhat goofy so we prepared a first dance that had some basic ballroom steps and when the music changed tempos we added in our own spins, dips and lifts. I even got to twirl Mike like a ballerina! When it came time for the bouquet and garter toss, I wanted something different, so I purchased 2 sets of garters. One for me that had the Lakers Logo on it , and one for Mike that had Ohio State Buckeyes logo on it. He took off mine, and I took off his. It was hilarious and we threw them both at the same time. I think our guests enjoyed the fun.
One of the highlights of the day was an unplanned event. Aaron Feldman from True Photography was my photographer for the wedding. I basically said that we were up for anything when it came to photos. Aaron took this literally. He happened to chat with our valet who came in on his dirt bike and asked if there was anyway that he would let us use him for some photos. The next thing I knew I was sitting on a mound of dirt and having our 19 year old valet jump over our heads on his dirt bike! The pictures turned out awesome! I was surprisingly calm during the whole experience and I was so happy that we allowed Aaron to be creative with his photography. Brides if I can give you any advice let your vendors guide you through the day. If you let them do what they do best you will be surprised how amazing things will turn out in the end.
Over all the day went way too fast(as I always tell my brides it will). But in the end it was perfect. Not because of anything more than I had great help and amazing support from some amazing industry professionals. I could not have gotten through the day with out Melissa Barrad's continual support. She kept me calm and happy all day long. Even though I am a planner myself I knew I would need help on the day of the wedding, and she and Lindsay Cross from our company did a phenomenal job. They were everything that a wedding planner should be. Our wedding was exactly what we wanted it to be, and I will never forget that feeling!
Vendors that helped make Rachel and Mike's day amazing:
Wedding Consultant: Melissa Barrad, Lindsay Cross, I… Do Weddings!
Ceremony & Reception Venue: Serenity Oaks Ranch
Officiant: James Murray
Florals: Alex & Brittany, Blush Botanicals
Reception Music: Daniel, JD Musik
Photographer: Aaron, True Photography
Videographer: John & Norma, NR3
Cake: Sweet Cheeks 
Rentals: Concepts Event Design, Chiavari Chair Rentals
Catering: Continental Catering
Hair & Makeup: Suzie Bayer, 619.987.1079    Scarlette De Boer, 760. 917. 8753
Favors: Nature Favors: https://www.etsy.com/transaction/90012274?utm_source=transaction&utm_medium=trans_email&utm_campaign=shipping_notification