Carol and Andy were married last fall at the Scripps Seaside Forum. I just love these two! They really are the perfect yin and yang to each other. Carol is sweet, vibrant and cheery. Andy is serious, extremely thoughtful and in love with his beautiful bride. Throughout the entire planning process, they worked as a team. Because most of our conversations took place over the phone due to the couple living out of town, I always got such a happiness out of our conversations and knew their wedding wouldn't disappoint.
I enjoyed their color palette very much. It was an excellent combination of classic and modern, with pops of sunny color that remind me of the Bride.
How great is the lighting in these photos? I always say that September and October are the best months in San Diego. I really find this to definitely be the case for Scripps Seaside Forum weddings.
One of the modern elements that was in the day were the string balls. Carol and Andy created these, which were placed within centerpieces as well as hung from the awning and lighting outside. So easy and fun to create!
The couple made their cake topper–pretty awesome, huh?
Regardless of venue, a contract caveat I almost always see is that couples cannot adhere anything to walls, doors, etc. At the Scripps Seaside Forum, this is definitely true. How do we get around this? Suction cups, fishing wire and mini clothing pins! Carol and Andy had an adorable e-session with their photographer Michelle Chiu at Disneyland. You can see their session featured on Magical Day Weddings.  The images were later used for table names.
I love Jennifer and Barry at Coast Catering! They do excellent work, and also have the best drinks. Their lavender lemonade is to die for!
Carol and Andy opted for a first look. The more prevalent this has become, the more I encourage it. I love how they have two distinct backdrops to their photos–the village of La Jolla and the Scripps Seaside Forum.
Carol changed not one, but twice, for a total of three looks! Another trend I simply adore.
Blue and Gray looks so pretty on the beach! I feel like brides that marry in the fall have a tendency to pick a palette of jewel tones or a palette of falling leaves (red/orange/yellow). I like how Carol and Andy keep things traditional, but with a summery vibe.
Parasols are one of my favorite props. I have them in the IDW inventory when the venue/color palette works!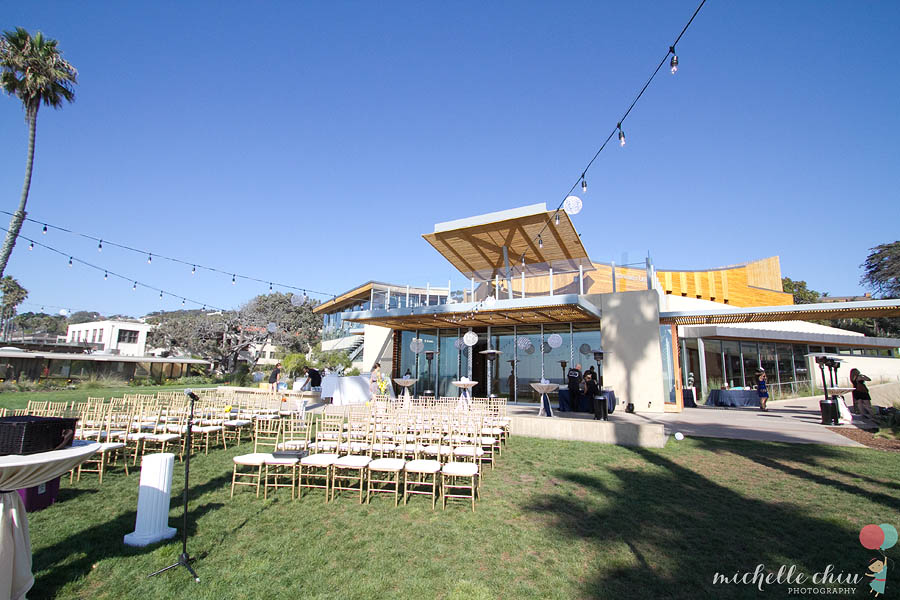 Carol and Andy, thank you for putting your faith and trust in me! I loved working with the both of you, and I think you are a perfect match! I wish you the fairytale ending that I am sure you will have! All the best!
Vendors that helped make the day:
Vendors:
Venue – Scripps Seaside Forum
Wedding Consultant and Florist – I Do…Weddings!
Photography – Michelle Chiu
Cinema – SidebySide
DJ – Dave Beza
Cake – Sweet Cheeks
Catering – Coast
Photobooth – San Diego Photobooth Rentals
Hair and Makeup – Michelle Lin
Rentals – San Diego Party Rentals and Concepts Event Design