Oh, Scripps Forum weddings, how we love you…
This time, we are featuring the wedding of Lauren and Eric! They got ready at the newly remodeled Hotel La Jolla…
Lauren is one of the sweetest, most photogenic brides we've ever had. She glows in every single picture!
How incredible is this bouquet, made by our friends at Organic Elements? It was MASSIVE, and could really only be pulled off by our very tall bride.
There are so many easier, low stress ways to pull off a first look. Seth and Desiree of Zelo Photography utilized our second favorite aspect in first look shots (first favorite of Scripps Seaside Forum weddings is of course the view!), which is the wood paneling.
See how tall these two are? When we did the wedding rehearsal, I was standing in between them in flats (I'm only 5'6″) thinking…."They are going to have beautiful, tall babies!"
Their ceremony was so touching and sweet. Lauren's brother officiated, and he really did a great job.
Cocktails took place on the upper terrace…near Caroline's Cafe.
We then moved inside for dinner and dancing. I always say that fall is the best time in San Diego. Look at all of the gorgeous fall colors we had that day.
One question we always get about Scripps Seaside Forum weddings has to do with lighting and draping. Is it really necessary? Do guests really notice? In our opinion, yes! Though Lauren opted for very clean lines for rentals and decor, the draping and uplighting really rounds out the space.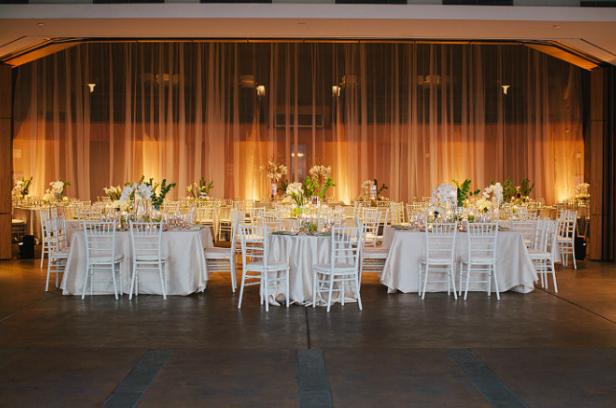 Lauren and Eric, thank you for the opportunity and experience of working with you! It was an incredible pleasure!