Melissa and Ryan were married this past spring. When we sat down to meet for the first time, I brought along some photos from past Scripps Seaside Forum weddings. They loved the space, and we were off and running! Melissa and Ryan wanted a simple, romantic day honoring Ryan's California roots as well as Melissa's North Carolina roots. Since they are new to San Diego, the wedding was some of their friends and family's introduction to the area.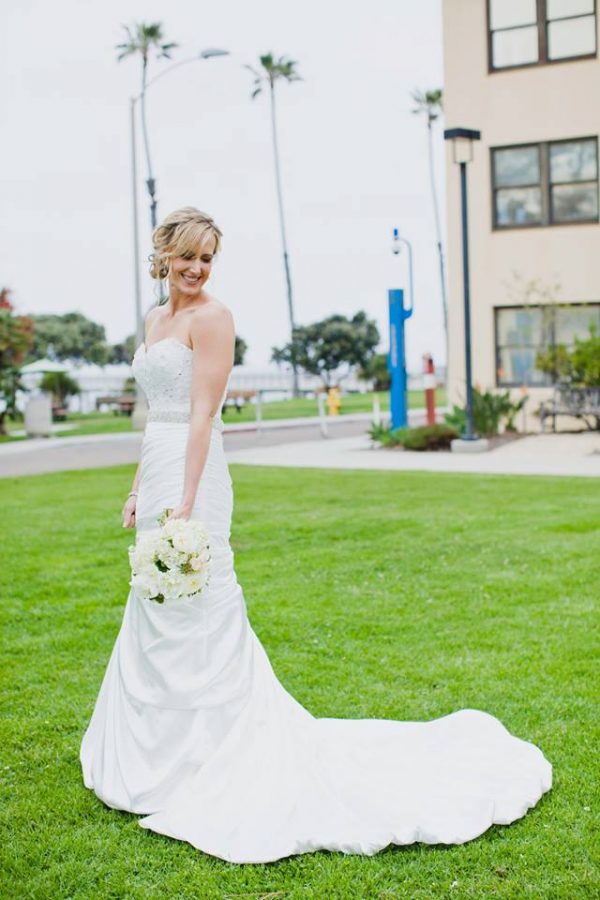 I just swoon every time I look at these photos of Melissa! Tall, gorgeous, smart and funny? Ryan is one lucky guy! Melissa's effortless hair style got even better as the day progressed.
How sweet are these first look shots? Our clients are doing a first look more and more, and I can honestly say that I fall more and more in love with the idea each time my clients take this private time.
Melissa gave me the opportunity to design her florals in addition to helping plan the day. We used blush spray roses, hydrangeas, dusty miller, full, open peonies and succulents, from my very own garden! We tied in Melissa's "Carolina blue" by wrapping bouquets in this gorgeous color and also dressing the bridesmaids in it.
Even though we are at the Forum quite often, it's easy to forget all of the amazing picture taking opportunities there are! Brett and Emily were scheduled to take shots of the big day, but their new baby decided to make an appearance. Cindy and Daniel stepped in and did an excellent job. Melissa and Ryan were so wonderful with this change–they rolled with the punches and enjoyed every minute of the day!
Melissa and Ryan opted to add a fun detail to their wedding ceremony. We  used river rocks to anchor down the programs, so that each guest had one. But, the rocks served double purpose–guests were asked to make a blessing while holding the rock. As the guests exited the ceremony, they dropped the rock in a glass container. I think this is a fun and interactive alternative to a sand ceremony, and the container of rocks can be a timeless display in Melissa and Ryan's new home they just purchased!
I have to admit….if your wedding is a bit overcast, don't fret! Doesn't this make for some beautiful shots?
We love closing up the airwall before guest arrival. This gives guests the opportunity to enjoy the view, and not see the last minute details such as lighting candles and placing out water and bread. We love the grand reveal! We like to sneak the bride and groom in to take a peek, and also let the photographers take some uninterrupted detail shots.
Here is another slight nod to Melissa and Ryan's roots! Melissa did an impressive job with this project!
Centerpieces were kept simple. We used driftwood, loose blooms and cubes of hydrangeas to accent the table. Melissa also painted these markers in lieu of table numbers.
This was their DIY photo booth. It was a HIT!!!
This may be my favorite moment of the day–seeing Ryan rock out during the first dance:)
Congrats to a beautiful couple! You are both perfectly suited for each other! Thank you so much for your trust and a stupendous experience! It was such a pleasure getting to know you and your wonderful families. I wish you all the best!!!!!!!!!!!!!
To view their video, please click here.
Vendors that helped make the day:
Coordination, Styling and Florals: I Do…Weddings & Events
Venue: Scripps Seaside Forum
Officiant: Rev. Christopher Tuttle
 Ceremony and Reception Music: DennisBergstrom                                          
 Photography: Brett and Emily Photo, Orange Turtle Photography
 Videography: Balestra Entertainment
Baker: Jenny Wenny
 Caterer: Coast Catering                                           
 Rentals:Platinum Party Rentals