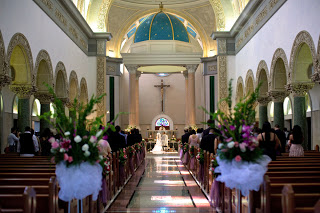 Christine and Patrick married on July 3rd at
The Immaculata
at USD… FINALLY! These high school sweethearts were made for each other. Krysteena the site coordinator for the Immaculata helped to make sure that every detail was taken care of for Christine and Patrick. The Immaculata was gorgeous backdrop for their ceremony. The amazing stained glass windows sprinkled color all along the aisle as Christine took her walk down the aisle with her parents. The flowers that lined the aisle and the alter were provided by the brides Aunt, and they added the perfect touch to the perfect day. The husband and wife duo Josh and Ariel from
Anika London Photography
did a fantastic job of capturing all the details of the day.
The happy couple held their reception at the
Coronado Island Marriott
in the same ballroom that they had their senior prom. How perfect! Christine and Patrick took a moment to practice their first dance in private before the doors opened for their beautiful reception. Friends and family crowded the room in excitement as they awaited the couples Grand Entrance. Ryan Marty from
Visual Essence Videography
caught all the excitement of the night as the group danced the night away! The highlight of the night was a surprise performance from the
Pasacat Dance Performance Group
. They even got Christine and Patrick involved in the dancing! What an entertaining, and romantic evening for not only the couple but all of their guests as well. This was truly an exciting wedding. Now how they are going to top this for their anniversary, I have no idea! I hope Christine and Patrick have the most amazing married life together. Thank you to all the amazing vendor who helped make their day special!
-Rachel