I often get asked about ideas for Groomsmen gifts. I tend to lean more towards the practical when gifting men, so I follow this advice for my couples. So, when Groomsday shared some of their products with me, I wanted to share!
First up, these personalized socks! A must-have for any guy in a wedding. Quality is wonderful and it is a simple way to add a punch to men's attire.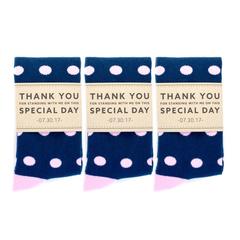 My husband is Norwegian and a beer drinker, so this Viking drinking horn caught my eye. You can have it personalized with a letter, and is a fun addition to any beer drinker's collection of glasses. Plus, it makes for a fun conversation piece! And, it's packaged really well, so if your attendant is traveling home after the wedding, it won't break!
The site has a bunch of options, particularly if you want a unique gift for all of the men in the party! So easy! Turn around time is very quick, and shipping is warp speed.  If your groom isn't a shopper, he could likely pick out and order gifts for all of his guys within the hour, leaving him plenty of time to share this link with his Best Man:)
Check it out!