If you've ever seen any of the inspiration shoots we've done for magazines and blogs, you'll notice we don't ever stay anywhere near the box. In past years, we've designed a boudoir room, a bubble bar, a breakfast-inspired boat wedding, a ladies yoga brunch on the beach and a New Year's Eve inspired elopement complete with noise maker bouquet. So, when we were paired with Kimberly of Flower Child for a shoot in Exquisite Weddings Magazine, we were giddy with happiness that we wouldn't be creating anything anywhere close to what anyone else would dream up.
After a highly entertaining brainstorming session, we decided upon a rainbow inspired tabletop, complete with a bar area, and ceremony set-up. We relied heavily on the ROY G BIV color palette, and used it throughout the table. For those of you that don't know what ROY G BIV is, it stands for "Red, Orange, Yellow, Green, Blue, Indigo, Violet." Though this table is literally a riot of color, there is a very clear and concise ROY G BIV pattern throughout. I think you can add a lot of color to an event, but it does need to have a rhyme and reason, particularly if the event is a wedding.

The shoot took place at the La Jolla Beach and Tennis Club. We added a ton of fun desserts, treats and sweets, as we imagined this Bride would definitely have a boatload of playful touches throughout their celebration.
How fun is the chevron rainbow paper products from Sweet Paper??? Sweet Paper, Flower Child, I Do…Weddings & Events and the La Jolla Beach and Tennis Club are all located in La Jolla. It was great to work with our neighbors.
I honestly don't think you can go wrong with popcorn!
How ridiculously cool is this bar? People were stopping us on the beach asking where it was from. Read below to see where it's from. The bar can also light up! On the bar, we placed fun drinks, candy and even more sweets and flowers.
One of the most fun (and stressful!!!) parts of a photo shoot is the actual set-up. Though you plan and plan, you're never quite sure what is going to make the cut and work together (particularly when you work with a lot of vendors). It is literally a mad scramble till the end. Luckily, a bride that would like this set-up would also like a lot of texture…such as this rainbow paper flower, the quilted vase and these varied arrangements. The more we planned, one bride came to mind. I kept thinking…."Gee, if I could assign this tabletop to a real person, it would definitely be Suzanne Hansen." She is sunny, sweet, full of laughter, and everyone that has ever met her, loves her. We work together on weddings, and she is our family photographer. Going into the shoot, I wasn't sure who our photographer would be. But, guess who walked up? Suzanne! Pretty perfect, if I do say so myself!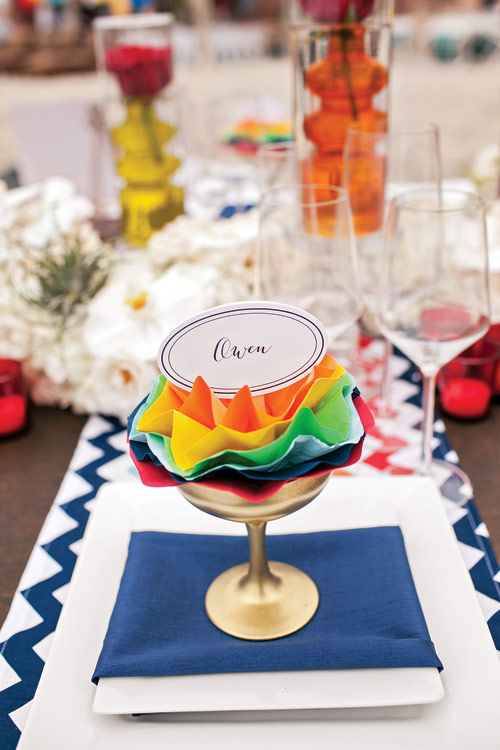 When I meet with clients for the first time, I often show quite a few photos. I like to explain how all of our weddings are insanely different and unique, and it is the personal challenge to myself and the team to be dynamic and creative. While not everything reflects our personal taste, it is more so about taking a vision and running with it…albeit as far as the client will let us! So, maybe this isn't your cup of tea, or maybe a single element is. We strive to be forward thinking, and we think this table reflects this! A major thank you to Laurie, Jennifer and the entire Exquisite Weddings Magazine team for including us in this fun project, and allowing us to be different, zany and crazy every time!
Vendors that helped make the day:
Here is the Exquisite Weddings Feature.