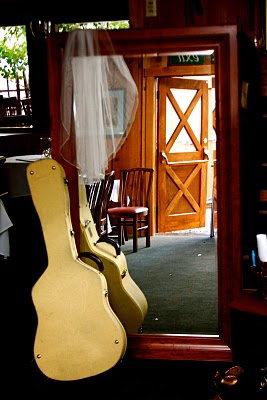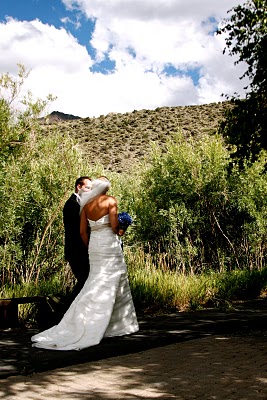 I was lucky enough to get to be apart of this Destination wedding in Mammoth. Lauren and Collin got married on August 21st, 2010 at
The Convict Lake Resort
. This was no typical wedding! Lauren and Collin had friends and family travel all the way up to Mammoth to celebrate almost a full week of events that led up to their wedding at the end of the week on Saturday. Their guests got to enjoy the beauty of Convict Lake, and all the fun that came with it. The couple planned everything from group hikes to the guest gift bags and guest signs that hung from each cabin. Lauren was a truly detail oriented bride, and you could tell by all the amazing details that were put into this wedding.
I was lucky enough to get to stay in one of the cabins at The Convict Lake Resort. Mike
Melin
the coordinator there made it easy to help Lauren with whatever needed to be done. I had the pleasure of working with some amazing photographers, Taryn and Shelby of
joie

lala

photography,
and Scott Lawrence of
Scott Lawrence Photographs
. They really captured the wedding day in all of it's beauty! There were some unforgettable shots out on the lake. Their creativity gave breath to some fantastic memories! The
videographer
Robert Bush from
HD
Invision
had no trouble finding enough to fill his video with.
The wedding ceremony was beautiful. The lake was an unforgettable backdrop and DJ
Michael

Tiernan
played acoustic guitar softly in the background. After the ceremony the guests were invited to a rustic cocktail hour on the front lawn of the resort. The reception was held in an elaborate white tent lined with twinkling lights, hanging lanterns, gorgeous rustic centerpieces and candlelight supplied by Patricia of
Red Lilly Flowers
. There were two very memorable events at this wedding. The first was when Collin sang a song he wrote for Lauren as he played his guitar on the dance floor. The second was when Lauren's father pulled out a "shot ski"! This was the first time I have ever seen a ski with six shot glasses glued to it! Guests took turns at the shot ski all night long! This was truly an entertaining evening, but the party didn't stop there. Guests moved from the tent into the restaurant bar where Collin and friends played live music for everyone to enjoy.