Emily and Jose were married on May 5, 2012 in Coronado. Though Emily and Jose have many friends and family here in San Diego, they were planning from afar. I so enjoyed working with this couple. They did have a very specific vision for their Cinco De Mayo wedding, but they gave me tons of flexibility to allow the creative process to ebb and flow over a period of more than a year and a half. Emily and Jose decided upon Centennial Park, overlooking Coronado Bay with a reception at the Coronado Community Center. We wanted to honor Emily and Jose's backgrounds, and give their guests a festive party experience.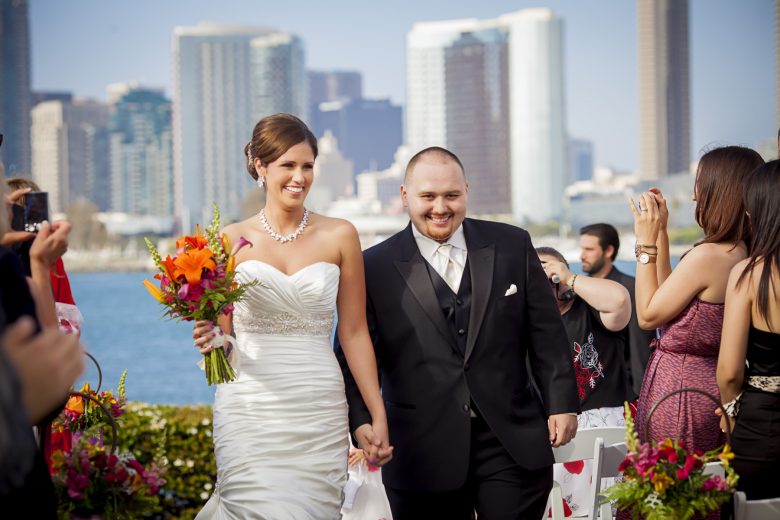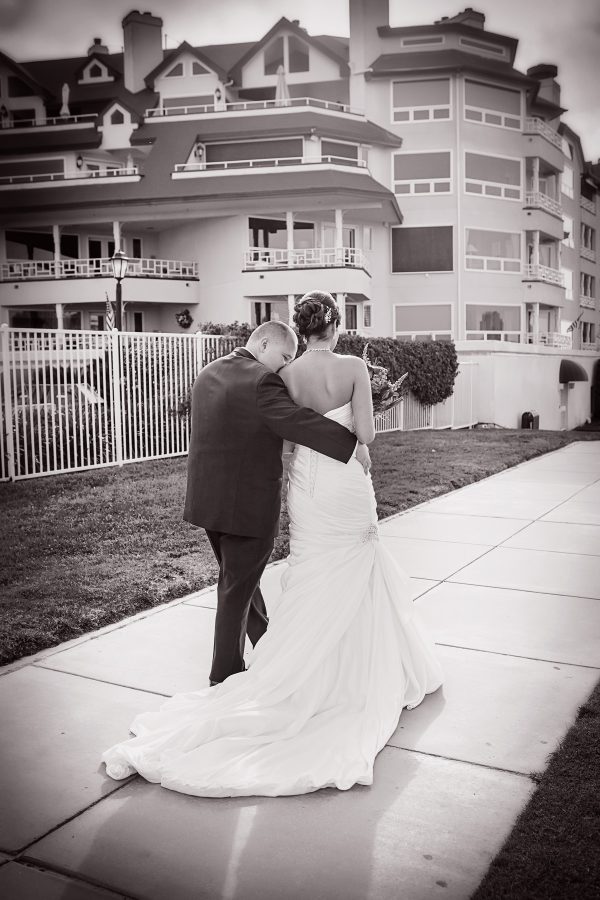 Emily and Jose were very specific about the vibe they wanted to achieve, but not the color palette. We decided upon a riot of color, which was very festive and captured the day beautifully. I am very partial to vibrant color as it photographs wonderful.
How fun is this cake topper? The cake became a huge labor of love and I am so thrilled with the result. In addition to the custom topper, I leaned on the team from Sweet Cheeks to create custom cookies just for Emily and Jose. I loved how the table became so much more than just a cake–it was a conversation piece all evening.
Another request of the Bride's was lighting. The patio area at the Coronado Community Center is simply beautiful. We hung market lighting and provided our own colored lanterns. Coincidentally, the USNS Cesar Chavez ship was launched over the bay. We were treated to an incredible fireworks show as well.
Emily and Jose, thank you for being a true pleasure to work with! I loved watching you both enjoy your wedding day to the fullest, and I will always think of you on Cinco De Mayo! Felicidades! Many thanks to the Camarena family…Emily's second family. I loved and so appreciated getting to know you–thank you for your contributions to the day:)
Vendors who helped make the day:
Venue:  Centennial Park and Coronado Community Center
Officiant: Rev. Powers
Music: Daniel Peterson
Photography: Meurer Image
Baker: Sweet Cheeks Baking
Rentals: Platinum Party Rentals, Chiavari Chair Rentals, Raphaels and Enticing Tables
Catering: El Indio
Beverage Service: Shake Bartenders
Florals: Meredith Iverson
Photobooth: San Diego Photobooth Rentals