Chiqui and Kam were married last fall at the Immaculata and The La Jolla Hyatt. They had recently moved to San Diego and were planning a formal, very large black-tie wedding that incorporated their Filipino and Nigerian backgrounds. It resulted in a gorgeous day that was completely unique!
The Bride wanted a very romantic look with tons of flowers, which can be seen throughout the day.
The day begin with an early mass at the Immaculata, leaving plenty of time for family and friends that traveled from all over the world to enjoy San Diego.
We really wanted a wow factor when guests entered the room. A combination of lighting, rentals and the work of Kathy Wright definitely achieved this!
The fountain was a request of the groom and it was a hit!
Just love this photo! I love the way Kam dotes on Chiqui. They are adorable together.
Because the Bride and Groom had a very large bridal party, they opted for a King's table so everyone could eat together.
The La Jolla Hyatt was excellent to work with! It was challenging to find a venue that fit over three hundred guests, and also allowed for outside catering. We brought an authentic Nigerian caterer down from Los Angeles, and the food was phenominal!!
In between mass and the reception, Chiqui had a bit of time for a quick change. I love how her hair is down for the reception!
The cake was really impressive! Grove Pastry did a great job working from a sketch I made. Such fun textures!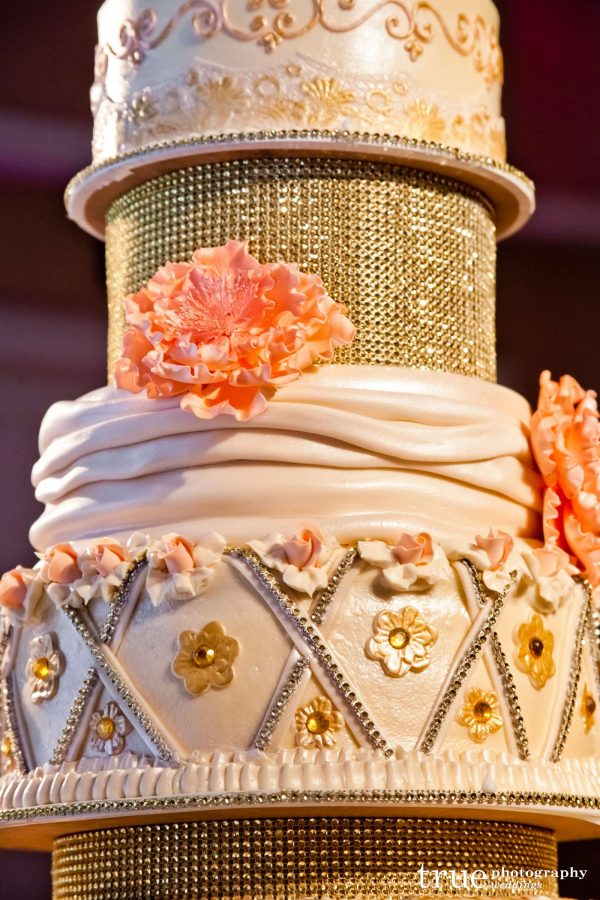 A Nigerian money dance (or honeymoon dance!) is like nothing I've ever experienced. Instead of placing money in a pouch or pinning it to the couple, money was thrown in the air and collected by the bridal party. Such a fun experience!
To see more of Chiqui and Kam's wedding, view their feature in ISSUU-Nuptials, featured by SanDiegoWedding.com.
Chiqui and Kam, I wish you all the best on your next adventure together in Nigeria!
Vendors that helped make the day:
Consultant: Melissa Barrad, I Do…Weddings & Events
Venues: Krysteena, Immaculata  and Hyatt La Jolla
Ceremony Music: Caprice Strings  
Reception Music: DJ Tos and Emcee Foxy P
Photographer: Aizhan, True Photography 
Florist and Rentals: Kathy Wright and Co.